(Last Updated On: April 3, 2018)
Hello, Lovelies!
Here we embark on another new segment: Rockstar Style! 
If you follow me on other social media, such as Pinterest or Polyvore, you noticed my penchant for fashion and beauty.  As I pour over my magazines, I'll update you on the latest trends catching my eye.  While I tip my hat to designers, I do not expect you to drain your bank account.  I hope to inspire you to explore your own style via this realm of art.
1) Painted Denim
Paint splatters on denim.  This is truly some Jackson Pollock shit right here.  Now, you could drop big money on designer pieces like this Calvin Klein pair of jeans.  That's f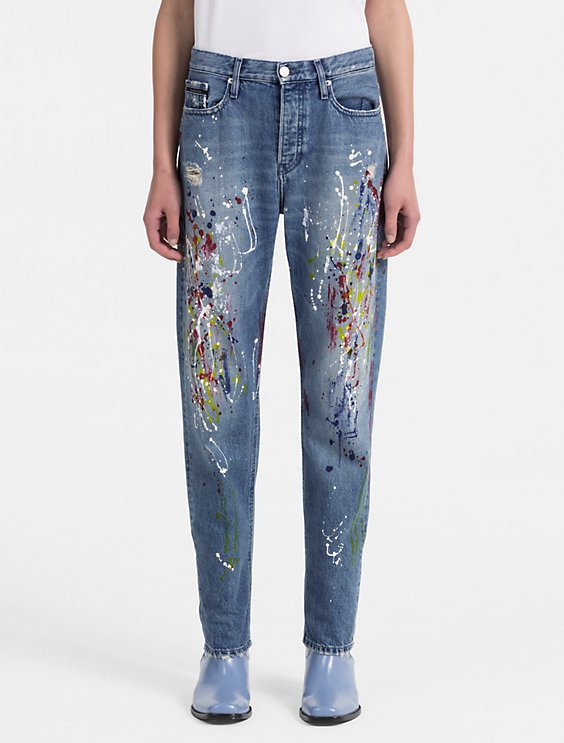 antastic.  I say, you can also DIY this easily with a pair of comfy jeans or jeggings which need revamping.
Do some research on what type of paint to use though.  I remember getting your typical interior household paint all over my junk jeans back in high school during my techie days.  That crap never washed out.
Anywho, get crafty.  when an opportunity to literally create your own style presents itself, go for it!  What's fashion without art?!
2) Clear Jewelry
Need some new statement baubles?  
This Spring calls for transparent pieces pairing nicely with just about anything you decide to pull out of your closet.  Pictured
here are some delightfully simple AQUA drop earrings.
To add a very subtle splash of color, look for tinted clear pieces to pair with an otherwise understated outfit.  I love pink, so I am all for any excuse to add it to my ensemble.
3) All-Season Boots
I adore boots. 
I wear them year round.  Of course, Illinois weather allows this as it's
about as unstable as John Wayne Gacy (Yes, I made an inappropriate joke).  During the fluctuating seasons, find a stacked rubber heeled boot you can do it all in.
Check out these Burberry boots.  Gorgeous.  You can pair these suckers with pants, jeggings, or the right dress.  Be adventurous!  You got the rockstar style! Let them boots do some walking!
4) Nudie Polish
My mother has always painted her perfectly long nails, as has grandma.
I cannot grow my nails worth a shit.  I bite them.  HI, ANXIETY!
But, lately, I've started buying the press-ons and religiously changing them out.  I finally get to paint my nails!  Of course, glitter bright pink decorates my fingertips at the moment, but if you wanna be en vogue, go nude.
That's right.  Take it all off and go bare.  Essie is THE line right now.  They just put out their ESSIE Wild Nudes line in a variety of colored hues, so your eyes can soak in the subtle fun.
5) Glossier's Cloud Paint
I know one of my next splurges.  Glossier's Cloud Paint
cream blush possesses so much versatility, you need to apply it to your entire face…maybe not all at once though.
This gel-cream blush builds from sheer to rosy.  It works for most skin-tones.  Mix the beige tone with any one of the other three shades for vivacious glow.  Apply it to your lips for a pop of color.  Use it with a liquid highlighter to add a bit more character to that contour. 
I might be a blush girl after drooling over these tubes of vibrant chroma.